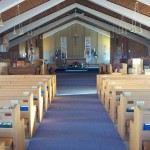 We love our church building, but St. Luke's has not always stood on it's current site.
St. Luke's was founded in 1910 in the Strathcona area, which at that time was under the jurisdiction of the Diocese of Calgary.  In 1912 and 1913, a parish hall and an extension to the church were built.
From 1913 to 1918 the incumbent also cared for St. Barnabas' mission in the Gallagher Flats and St. David's on Wye Road, but by the end of this period, the workload was such that St. Barnabas' mission was detached.
Although World War I and the influenza epidemic of 1918 had seriously depleted the congregation, a parsonage was bought in 1922.  Following the Depression years, in the early 1940s, a small chapel was added to the church and an immersion font was installed, then the only one of its kind in the diocese.
With tremendous growth in the 1940s and 1950s, it was decided to move the church to its present site.  The first sod was turned in June 1957, and the church was dedicated for worship in January 1959.  At that time, two Sunday morning services were held as well as Evensong, and a large number of children participated in Sunday School, Junior and Girls' Auxiliaries, Cubs and Scouts, and Little Helpers.
The 1960s, 1970s, and 1980s saw many innovations now familiar to us today, including support for the Youth Emergency Shelter, the Food Bank, and the Primate's World Relief and Development fund.
The Memorial Garden was established in 1980, together with two stained glass windows from the sanctuary of the 1910 church.  The other windows from the old church now form the back wall of the nave in the present building.  The bell tower was dedicated in honor of senior citizens; the bell, an old engine bell, was donated by the railroad.
In 2010 we celebrated 100 years of service to the community with monthly historical presentations and a joint celebration at All Saints Cathedral with three other parishes.  Everyone enjoyed our October 17th weekend banquet and an anniversary service presided over by Bishop Jane Alexander.  Bishop Andrew Atagotaaluk of Nunuvut who had helped us celebrate our 70th anniversary was our guest preacher.